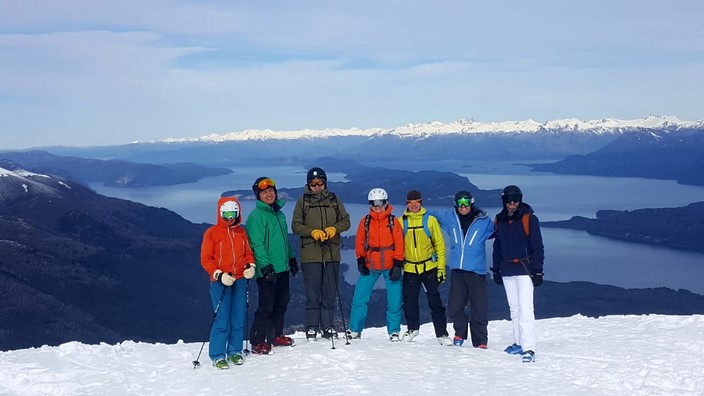 About DreamSki
Our Approach

DreamSki Adventures is founded on the principles that your ski holiday should be adventurous, fun-filled, rewarding, and very importantly - hassle free. Also your holiday time is precious and you want to make the most of it. With this in mind, we have designed ski tours for you with a balance between being looked after and having the opportunities to make your own discoveries at your own pace. This balance is created by the intimate nature of our tours consisting of small groups and multiple instructor-guides.
We have chosen our ski destinations and itineraries to take you to unique destinations and their best skiing and snowboarding, not just the best marketed areas. We take you off the tourist trail to our favorite places for the best exposure to the local culture and the best ski experience. We take you were others do not. We take you to where there are fewer tourists, more locals, fresher snow and more adventure providing you with more than just a ski holiday!
We want you to experience the ultimate skier/boarder sensation – fresh tracks. To that end all of your guides are all high level experienced certified ski and snowboard instructors. We offer you as a part of all our tours our "guided coaching" (see below) for all levels of experience. From the intermediate to the expert we allow everyone to either experience powder for the first time or improve and ski it faster, smoother, and steeper for that ultimate sensation of flight and freedom that powder skiing provides.
Our History

In 2001 DreamSki's founder, Gerry, was looking to ski for the summer after the teaching season ended in Canada. Australia and New Zealand were being considered when he had a chance meeting with someone who had just returned from Chile, then a relatively unknown ski entity. He knew right then Chile was for him. It met his passions of travelling, language, exploring new cultures and a ski adventure in a place unknown to him and most everyone else. Once there Gerry realized he had to share what he had discovered - the unparalleled skiing and snow, abundant fresh tracks combined with the magic of the Chilean people and culture. It was skiing for everyone, not just the die-hard big mountain skier, as was the perception at the time.
Thus DreamSki Adventures was established in 2004 and offered its first tours in Chile to offer a vehicle to share these passions with those who are looking to experience other cultures and exciting ski experiences outside the norm, in an intimate group guided format.
This format combined with our "guided coaching" has proven very popular and successful. DreamSki Adventures soon expanded its destinations to include Argentina, Canada USA and Japan. We have been providing what our guests describe as their "best ski holiday ever!"
What We Are

We are ski and snowboard professionals who ski and ride full time and love sharing our passion. We live in the countries we offer as destinations or have traveled them extensively. We know the areas, the languages and the customs allowing us to deliver the best in local skiing, culture, and restaurants.
We do not organize tours and use other vendors to supply the services – we design and conduct the tours ourselves. You are dealing directly with the people you will be travelling and skiing/riding with – no middle men. Therefore the tours are designed by skiers and snowboarders for skiers and snowboarders and are time proven to maximize your holiday time, offer you the best in skiing and adventure, and the best value for your time and money.
Who We Are

Very importantly, we are people who love what we do, which is helping others experience all that skiing and snowboarding has to offer; from the freedom and challenge of doing it, to meeting great people and having amazing travel experiences. Teaching is our passion which means we are passionate about helping and supporting others. This shows in the quality of our tours and the high repeat rate of our guests.
We are all professional certified ski Instructors. This means we have achieved a high level of mastery in skiing/riding and in the instruction of skiing/riding. It also means we have the proven personalities and skills, and the experience to manage groups very effectively and offer you the help or challenge you desire, all within a fun and exciting environment.
About Our Guided Coaching

DreamSki Adventures uses our guided coaching" approach over the length of your tour that will have you skiing and snowboarding more and doing more than you may have thought possible even as a very experienced skier or rider. We keep you moving on the slopes while learning - we are trained not to stand around and talk about it. You can't improve your skiing or snowboarding unless you're doing it!
Our "guided coaching" approach uses the Canadian Ski Instruction skilled based approach which identifies the skill you must strengthen in order to improve your overall skiing, and then applies guided mileage. This is a great combination of improving your technique through a short instructional session and then reinforcing your new technique as we ski together throughout the day on various terrain and snow conditions around the mountain.
This guided mileage under a watchful eye is the key and does two great things:
1. It ingrains your new movement into your muscle memory so the improvement is permanent and does not fade like many 2 or 3 hour ski lessons. For adults it takes thousands of repetitions to ingrain a new muscle movement.
2. You are assured of reinforcing the correct change as you have an instructor there as a watchful eye to assure you are doing the new movement correctly and not reinforcing the wrong thing which again happens often once you leave a 2 or 3 hour lesson.
On a DreamSki Tour you receive this guided mileage over the length of the entire tour which is a great opportunity to make great strides in a very short time that are permanent.
Use of Video

Another great tool we incorporate into our teaching is the use of video. This allows you to see what you are doing right, what you are changing, and where you came from at the start of your time with us. It can really reinforce the learning process when you see yourself doing what you have been trying to feel on your skis or snowboard. It is also a good laugh sharing the day's video with the group at the end of the day over a drink.
"Fantastic trip for skiers keen to challenge themselves in a supportive environment. Good balance between instruction and free skiing. It was a great opportunity to improve my skiing in a way rarely available to those with only a couple of weeks to spare. All ski trips are not the same! DreamSki Adventures has refreshed my enthusiasm for what the sport can offer." - Helen Clark, England
"An amazing experience that will be difficult to better. I was doing slopes that I thought I would never have the confidence to do and good to see the improvement on video. This is my second holiday with DreamSki and I can't wait for the next. This from the person who was scared of black runs and powder!!!"
- Lesley Jackson – England